Next Generation Routing
The power and flexibility of a routing engine brought to you from the cloud.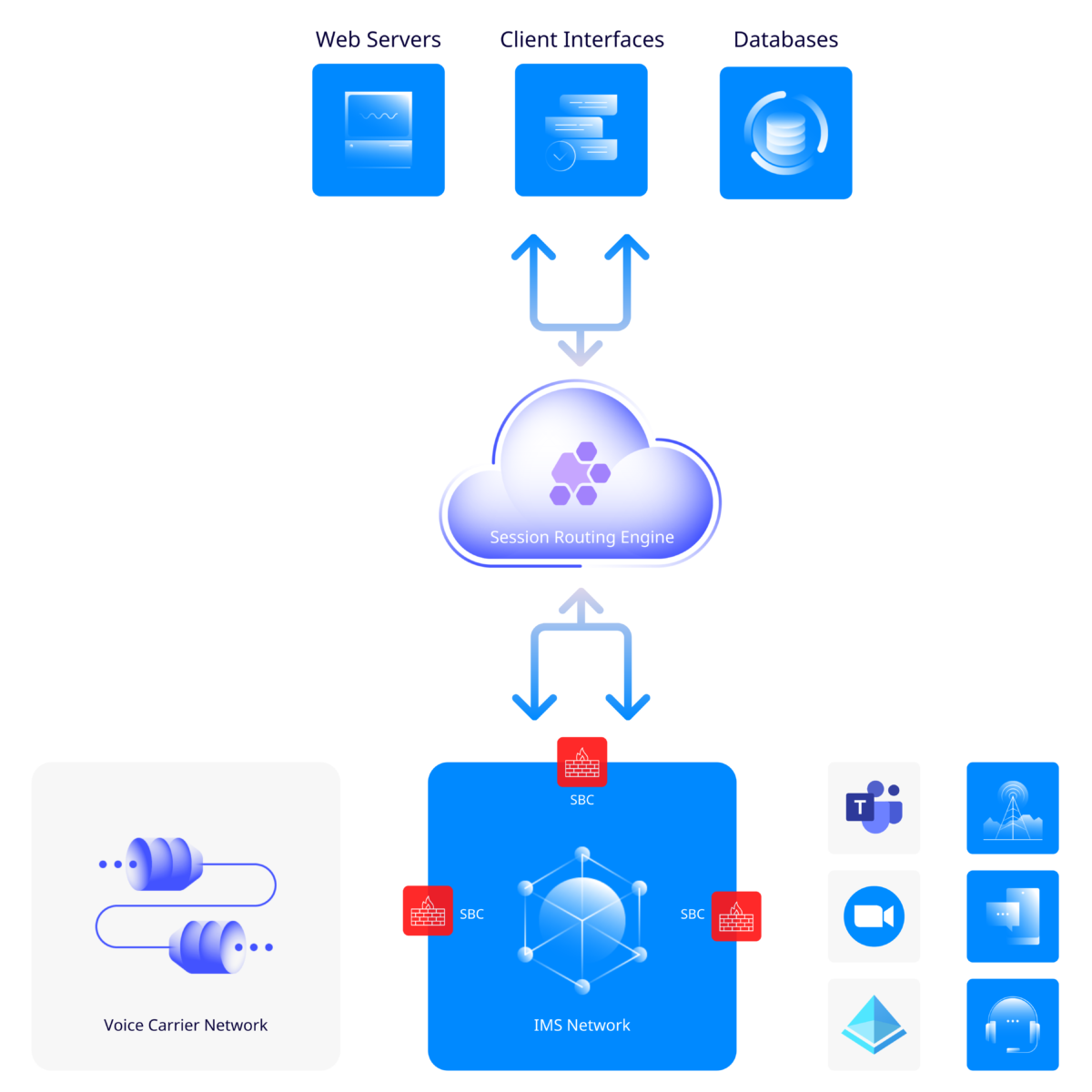 Take control of your network with a powerful Session Routing Engine
Centralise the management of voice and non-voice sessions by utilising our multi-protocol, carrier-grade platform with a range of deployment options. Routing has never been simpler or more accessible with Capex barriers removed.

INTEGRATE PLATFORM ELEMENTS
Multi-vendor support for SBCs and programmable routing
Quickly build new integrations and simplify processes with SBC support for Oracle, Ribbon and Metaswitch. Create new data structures, routing logic and reporting capabilities with internal and external database support and web service integration.
Session Routing Engine as a Service
Simplify routing decisions, SBC management, platform integration and service creation for voice and non-voice sessions.
Simplify operations to build products faster
Automate and accelerate complex processes like number portability, service provisioning and customer enablement with a "drag and drop" service logic builder.
"SRE's fast and intuitive UI enables our Technical Operations team to make customer routing plan changes with ease and removes the requirement of understanding the intricacies and ramifications of making changes that were a technical overhead of the original SBC vendors routing logic. The granularity of control within SRE plays a pivotal role in meeting Ofcom obligations and our voice product team are already dreaming up new services to empower our channel partners."
Martin John
General Manager
We'll get you up and running quickly with help at every step of the journey. You can get started with a cloud-based service without deploying any new hardware.
VPN access from your VoIP network. Optionally, we can expose the SRE service on the Internet for you – it requires SIP registration.
Graphical interface provided for managing user data and accessing invoices.
Access to a reporting and troubleshooting tool based on Netaxis' Nemo (optional).
A RESTful API connection is then provided for simple provisioning.
Ready to take your routing to the next generation?
Get in touch with our team and we'll get you up and running quickly with minimal commitment and no stress.