UC Control Hub 2.3 Available
Time flies when you are having fun! It's already August, and this means it will be 2021 before we know it. Not only does time fly, but also our software portfolio is evolving at the speed of light. We are happy to announce version 2.3 of our UC Control Hub, the most user-friendly self-care experience to enrich BroadWorks based UCaaS platforms. As you probably know, the Control Hub sits on top of our APIO UC Management platform, which has, of course, challenged Einstein's relativity theory.
So, UC Control Hub 2.3! What's new?
Over time we got numerous questions about integrating call analytics into the portal. As you all know, at Netaxis, we believe that empowering your customers is the key to being successful in the market. Giving insights into the usage of your services is, of course, vital.
As part of this release, we've integrated our Nemo call analytics engine into the APIO ecosystem. The engine continuously pulls CDR files from Broadworks and converts them into useful stats. The UC Control hub has been enhanced accordingly:
First of all, tenant admins have now access to an analytics page providing several KPIs and statistics that concern the enterprise as a whole. For convenience, we added the possibility of quickly showing the stats for just one or selecting sites instead of the entire enterprise: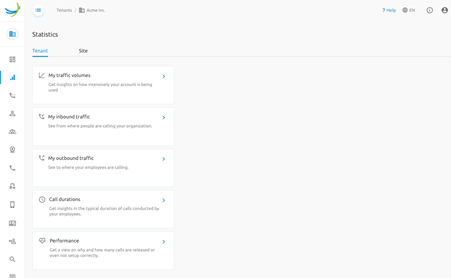 Charts & enterprise/site KPIs include:
Evolution of max & average sim calls over time
Call minutes per day in function of time
National and international distribution of calling and called parties
Termination reason distribution
Insights in the typical call durations and how it changes over time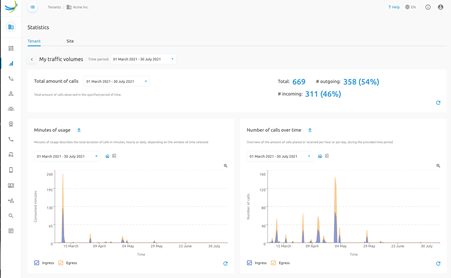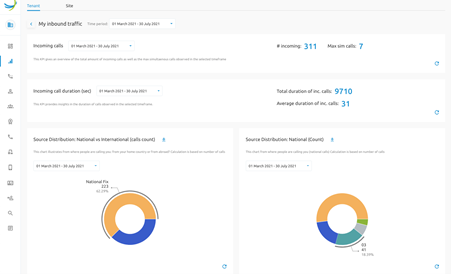 Group admins have, of course, access to similar data but are restricted to the group they manage!
Besides charts and KPIs that concern entire groups and enterprises, we added KPIs at the user level, call centres, IVRs and hunt groups. You have to select the time window over which the platform has to calculate usage statistics. The platform can give you insights into KPIs like the number of calls received & place, total inbound minutes, total outbound minutes, typical call duration, and much more!
Of course, this feature isn't finished yet. There are more exciting features to come. We will soon allow users to pin useful stats to their dashboards. We will also plan to add CDR access in the portal so that your customers have direct access to their call logs in a much more detailed form than native Broadworks call logs.
Let's get rolling with Webex 4 Broadworks!
One of the biggest innovations we've seen in recent years is the integration of Broadworks and Webex. The great thing is that you can now easily enhance your hosted telephony offer with some of the best UC experiences on the market. It provides new upsell opportunities you need to consider!
However, besides the technical aspects of such product innovations, most of the time, it's the provisioning and service activation which will consume most of your budget. As one of the first UC management platforms, Netaxis added support for Webex to APIO. Already since December 2020, we're able to provision Webex seamlessly. Unlocking Webex is just a matter of hours!
Those exploring (or even implementing) Webex 4 broadworks know that there are some challenges to this integration. Users need an email, and they cannot have an existing Webex account. Many of our customers are also running UC One and now need to move their users across to Webex. To better manage all these cases, we've integrated our Webex capabilities into the control hub. Admins and users can see their Webex account. If something goes wrong with the provisioning, they can resolve conflicts themselves. And for those that require migration … well, also, that's possible to trigger right from the portal.
And all this is just a start! More exciting features are coming in the 2nd half of 2021.
User management directly from enterprise level
For those out there using Broadworks in enterprise mode know the difficulties linked with its datamodel. You need to define groups before being able to create users. The hierarchy adds to the complexity of the platform, certainly from a UX perspective.
As a first step in making life even easier for enterprise admins, we now support user management directly from the enterprise level. You can create users one by one or in bulk. You don't need to pre-create sites, and you can all do that in one shot! That will save you quite some time!
Improved contact management for users
Broadworks has multiple ways of storing contacts: contact lists on an enterprise level, group level, personal contacts, enterprise directory… We merged all of these directories into 1 comprehensive view. We enhanced it with bulk capabilities. We also added some cool shortcuts to immediately configure a call forwarding, speed dial, and so to the contacts you like the most:
Call centres are one of those great features of the Broadworks platform but managing them is not that easy. In the new release, we further enhanced the management of such call centres. When you drill down in the call centre, you now immediately see how many calls are in the queue, how many (and also which) agents are on call:
And to manage the status of your agents, you no longer need to drill down!
And there is more
Of course, that's not all. This release also contains tons of other improvements that further enhance the user experience for hosted users and SIP trunking customers. We also made several improvements to our mobile responsive views as well as branding capabilities.
What's next?
More exciting features are ahead. In the second half of 2021, we will further enhance our Webex capabilities and add support for Microsoft Teams direct routing. We plan to build a call flow editor which will allow your customers to graphically build IVRs, hunt groups and call centres on your Broadworks platform.
Want to know more? Don't hesitate to reach out! We are happy to jump into a call and give you a demo!